Trump's ' Rip-roaring hot' Economy: 230,000 Jobs Created Last Month
SUMMARY FROM VARIOUS NEWS ARTICLES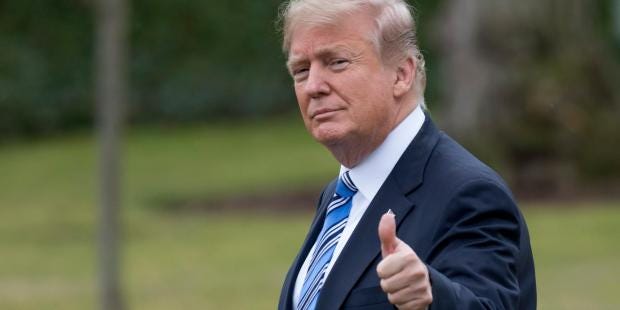 185,000 was the expected number but like always The Trump effect came into play and break that expectation and created 230,000 jobs!
*Private payrolls rose by 230,000 in September, according to the most recent count by ADP and Moody's Analytics.
*That was well ahead of expectations for 185,000 and the 168,000 jobs reported in August.
*Moody's economist Mark Zandi said the current pace suggests an unemployment rate of close to 3 percent in a year.
Job growth surged in September (2018)to its highest level in seven months as the economy put up another show of strength, according to a report Wednesday from ADP and Moody's Analytics.
Private companies added 230,000 more positions for the month, the best level since the 241,000 jobs added in February and well ahead of the 168,000 jobs added in August.
The total was well ahead of the 185,000 jobs expected by economists surveyed by Refinitiv (formerly Thomson Reuters).
Mark Zandi, chief economist at Moody's Analytics, told CNBC, "This labor market is rip-roaring hot. The risk that this economy overheats is very high, and this is one more piece of evidence of that."
Zandi estimated that the unemployment rate would plunge to roughly 3% in the next twelve months; that rate currently sits at 3.9%. The economy is so strong that even the impact of Hurricane Florence could not dim its advance, although Zandi said the number of jobs gained could ultimately be reduced by 25,000 because of Florence.
As CNBC noted, "Federal Reserve Chairman Jerome Powell in a speech Tuesday characterized the economy outlook among forecasters as 'remarkably positive.'"
1.
https://www.cnbc.com/2018/10/03/private-payrolls-grew-by-230000-in-september-vs-185k-est-adp.html
2.
https://www.marketwatch.com/story/us-adds-230000-private-sector-jobs-in-september-adp-2018-10-03