35% of Americans approve of Trump's job performance, 64% disapprove
June 16th 2017
President Donald Trump's latest job approval and disapproval ratings spell more bad news for an administration currently swept up in controversy.

Just 35 percent of Americans say they approve of the job the president is doing, while a staggering 64 percent say they disapprove, according to poll released on Friday conducted by the Associated Press-NORC Center for Public Affairs Research.
Trump's disapproval increased by 6 percentage points from 58 percent back in May to now 64 percent.
The latest new survey shows a sharp drop in support overall for the president, whose approval rating fell 7 percentage points in the last month to hit one of his lowest points yet.
The president boasted on Twitter Friday about the latest
Rasmussen poll
which has him at a 50 percent approval rating. The survey
has been a consistent outlier, often showing Trump with higher numbers than other major surveys.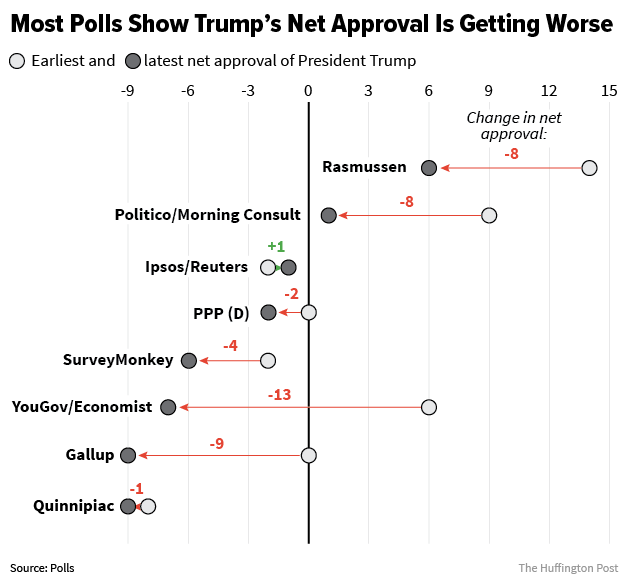 In terms of issues,
health care
emerged as a sore spot for the president in the AP poll, with
66 percent of Americans surveyed saying they disapprove of Trump's handling of the issue.Sixty-four percent
, nearly the same number in relation to health care,
are unhappy with the president's handling of climate change issues
-- this coming on the heels of Trump's announcing he was withdrawing the United States from the Paris Agreement earlier in June.
https://www.aol.com/article/news/2017/06/16/poll-trump-approval-rating-sinks-as-russian-investigation-heats/22364842/